Discover more from Yet Another Newsletter
Take on the latest startup and venture capital ecosystem
[YAN] Casper, not so Unicorn anymore
Welcome to the sleep economy…
This is how Casper starts its S-1 filing and unlike the catastrophic S-1 last year, Casper does not plan to elevate the world's consciousness, but rather submerge it into a deep slumber ... sounds cozy?
Sleep is identified as the third pillar of wellness after nutrition and fitness and is estimated to be a $432 billion global market, growing at 6.3% CAGR. Interestingly, Casper's current serviceable market has so far been just ~15% of the total market share.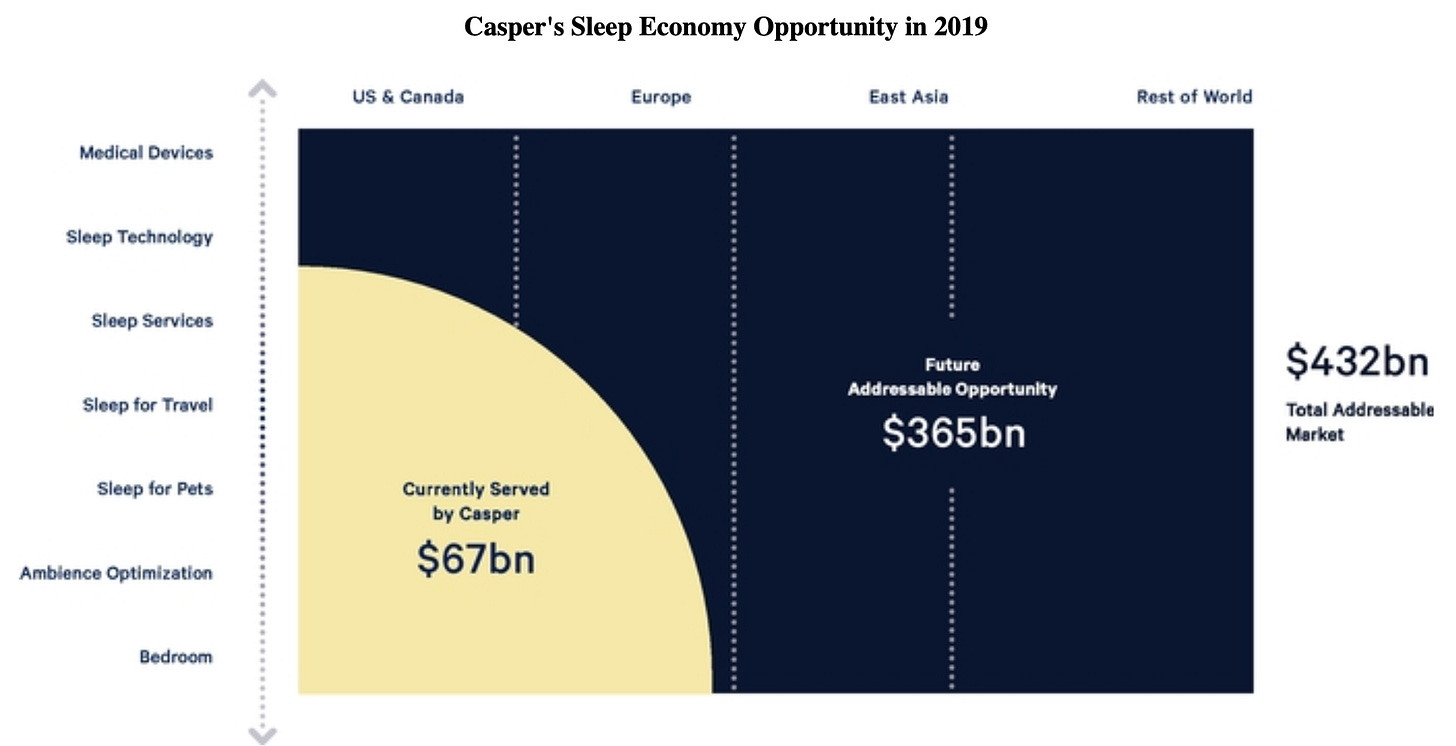 I admit that earlier I was personally never motivated by most of the direct to consumer brands and have spent a good amount of time feeling fairly perplexed about private market valuations. Neither do some of these companies offer supreme revenue quality like SaaS businesses and nor do they have a unique distribution strategy (in fact a fairly overlapping play), yet some of the most prominent VCs and super angels have been writing cheques with crazy speed.
An industry like the 'mattress' universe has been fairly transactional for decades now. I do not know a single 'sleep' fanatic who has personified their enthusiasm into the shape and form of a retail brand (do you know the brand of mattress you own), yet Casper has managed to create quite a mark on its customers, making this D2C brand very admirable. People are crazy about coffee, craft brewery, chemical-free cosmetics, but kudos to Casper to revitalize the mattress turf and build a multi-million dollar empire on top of it (yes million and not billion, yet).
Stats to look at:
1.4m+ total customers

Operational in 7 countries

50.7% Gross Margin

20% repeat customer rate after the first 9 months (other Casper products sold)

27 different sleep products

Reported losses of $67.4 million (for first 9 months of 2019)
An already public and profitable rival, Purple Innovation, is valued at ~$577 million (trading on NASDAQ).
Casper had raised ~$340 million to date from NEA (investors in Robinhood, Plaid, Cloudflare), Target (8th largest retailer in the US with a Corporate Venture arm), and IVP (Grammarly, Brex, Dropbox, Slack, etc); valued at $1.1 billion after its Series D last year in March. Casper in its recent filings has now announced to price its share between $17-19 and raise ~$180 million from this public offering. Even though its maximum valuation per filed share price gives it a market cap of $768 million, it's still quite a drop from its private market valuation, snatching away its Unicorn status. So the continued disappointment of VCs and startups from these tech/quasi-tech IPOs seems to continue this year as well.
I am guessing that investors won't be sleeping on Casper's IPO, price has been locked and founders have made their peace 🤷‍♂️