Discover more from Yet Another Newsletter
Take on the latest startup and venture capital ecosystem
#3) From Wunderlist to Pitch.com
This week's jazz:
Wunderlist to eventually shut down (after much anticipation) in 2020

Chime zooms ahead in the neobank race, raises $500m from DST Global

Thinking in bets ... drinking in bets
---
RIP Wunderlist ⚰️
"La da da da da da,

Hey hey hey goodbye

Hold up" - Jay Z (D.O.A)
Microsoft has officially announced to shut-down Wunderlist on May 6th, 2020. Not sure how many of you would have ever used the app or at least installed it, but I for one used to be an avid user. Used to. Wunderlist still happened to be the most used to-do app for me, but like every other productivity app out there - due to no fault of their own but the sheer lack of my own will-power or commitment to the mission of keeping my life categorically sorted, I ended up ditching it.
After having raised $35 million across 5 rounds in 3 years from the likes of Sequoia Capital, Earlybird Ventures and listed German telecom company Deutsche Telekom, Wunderlist got acquired by Microsoft in 2015 for an undisclosed figure estimated to range from $100-200 million. Wunderbar!
Fact: Prior to Wunderlist, Sequoia had also invested in Dropbox and ... Evernote. Is it just me or seems like their 'then' portfolio just couldn't survive the next wave of productivity apps?
At its peak, Wunderlist had 13+ million users and 1 billion to-dos registered. Its freemium model also allowed it to earn $4.99/mo or $49.55/year from users, although Wunderlist never disclosed either its paying customer base or top-line figures, thereby making it tough to gauge how it benchmarked itself against other SaaS players or its contribution to Microsoft's cloud suite revenue. Probably, that's why Microsoft is now urging its users to migrate to the all-new branded To-Do 🤷‍♂️
"I don't be in the project hallway

talking about how I be in the project all day" - Jay Z (D.O.A)
What happens when you give vengeance a productive spin? You raise $52.7 million and battle the Goliath!
Wunderlist founder Christian Reber left Microsoft and started Pitch.com earlier in 2018 along with his ex-cofounders. Since then, Reber and the team have managed to raise capital from Kevin & Mike (Instagram founders), Rahul Vohra (Superhuman CEO), Thrive Capital (invested in Nubank, Github, Lattice, Instacart, etc) amongst others.
Will these wunderkinds (I promise, this is the last one), topple over the reigning 32-year-old Microsoft Powerpoint and zoom ahead in an already over-crowded market with players like Apple Keynote, Google Slide, Pretzi, Quip Slide, etc? Teams at Notion, Superhuman, Zoom already claim to be using Pitch, it seems like the West Coast adoption is working in their favor so far.
---
San-Fransisco based startup, Chime, valued at $5.8 billion with its latest raise 🏦
DST Global led the very recent $500 million round in Chime, giving the startup a great leap in valuation.
Offering 0.01% interest, free P2P payment services, and custom Chime Visa Debit Card, Chime claims itself to be "one of the fastest-growing bank accounts in America" with already a staggering base of 6.5 million accounts on its platform.
"US household pays over $329 in bank fees every year", a statistic that every bank account holder across the globe, in some shape or form, can identify with - not particularly with the exact figure but with the sheer fact that hidden caveats in banking fees are still prevalent in this day and age.
What's Chime's model?
Chime doesn't charge its customers any banking fee. In fact, Chime makes money from Visa. Every time a Chime Visa card is used to make payments, Visa collects an interchange fee from the merchant, giving Chime a small cut out of the transaction.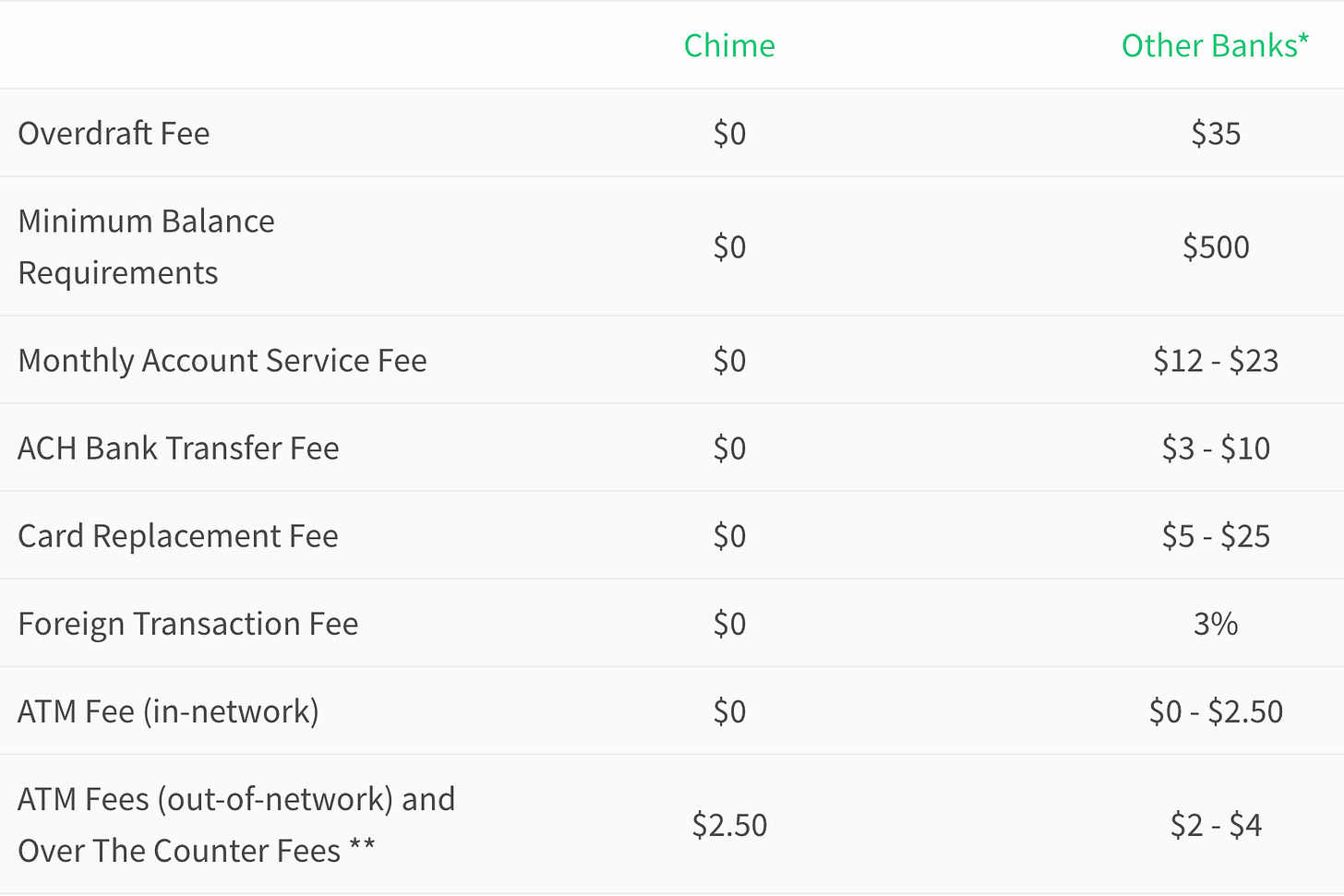 Partnerships are a two-way street.
Partnering up with players such as Mastercard and Visa seems to be like the widely adopted strategy for new-age fintech players. By providing the underlying infrastructure, Visa and Mastercard will ride the wave of new-age banking to tap into markets demanding complex distribution mediums. It may not seem like a daunting task in highly penetrated internet markets such as the US, but within emerging ones (India, Brazil, etc), such tie-ups are relatively cheaper alternatives than deploying feet-on-street resources.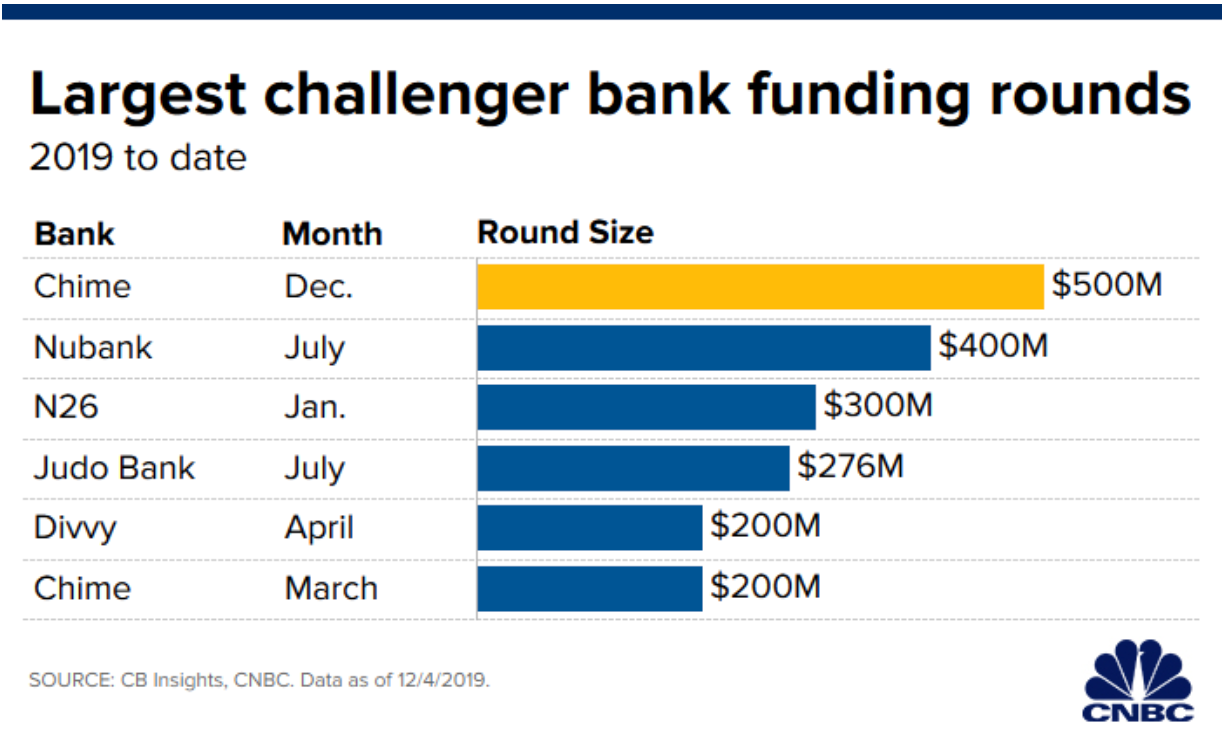 "McKinsey estimates that by 2025 up to 40% of banks' collective revenue could be at risk from new digital competition". Earlier this year, Brazilian neobanking startup Nubank supposedly hit a valuation greater than $10 billion after fresh infusion of $400 million from TCV, Tencent, Sequoia Capital, Ribbit Capital, and guess who else? DST Global :)

Nubank has a customer base of ~12 million clients.
(For all those who missed out on my first issue of this newsletter, I covered Neobanks and Virtual Banking Licenses in the Asia-Pacific region)
---
Thinking in Bets ... Drinking in Bets 🍻
Off late, I have been on and off reading "Thinking in Bets" by Annie Duke. Whilst the book presents multiple paradigms, one of the thinking models actually stuck with me over the weekend - an actual use-case :)
10-10-10 Rule: How to incorporate future-us into more in-the-moment decisions? Every 10–10–10 process starts with a question… "what are the consequences of each of my options in ten minutes? In ten months? In ten years?"
So the next time you go out drinking on a Friday night, would definitely help with thinking about your future-selves, 10 hours later.